Call us today
Call us now to to find out about starting your own online store.

These people did and now they're running successful online businesses.
Testimonial
"StoreDeveloper helped us to deal in something that we're passionate about. Great service that gave us just what we wanted."

Tom May, Rugby-Store.com
Testimonial
"BuyCatering.com has really boosted our existing catering equipment business. Our customers come from all across the UK and our sales have soared since going online."

Mr X, BuyCatering.com

Home
/
Case Studies
/
The Aston Workshop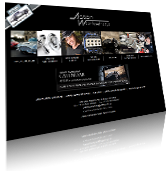 The Aston Workshop is a leading specialist in the restoration and sale of Aston Martin cars.

The Aston Workshop was established in 1988 by Bob Fountain, who wanted to build a business out of his passion for restoring Aston Martin cars. The Aston Workshop specialises in the sale of Aston Martins, parts and accessories, restoration, accident repair and services.
Since its inception, The Aston Workshop has been taken online and has since grown into an internationally renowned specialist in Aston Martin cars. By being online, The Aston Workshop has managed to tap into the larger, worldwide Aston Martin community, which has allowed this business to grow dramatically.
By having an ecommerce platform online, The Aston Workshop has also been able to branch out into the sale of specialised Aston Martin products such as Aston Martin artwork.